PVC crust foamed board production line
Characteristics of PVC crust foamed board production line:
PVC crust foamed board production line is also called PVC wood plastic foam board production line, PVC wood plastic furniture plate production line, PVC wood cabinet board production line, wood plastic construction board production line. The biggest difference among them are different density and different formulation, because of material difference, the production line of wood plastic foam plate and PVC foam plate have differences in screw forms. PVC crust foamed board has properties of sound insulation, sound-absorbing, heat insulation, thermal insulation. The plate is flame retardant without the risk of fire, it is safe to use. All series of products have properties of anti-moisture, anti-mildew, water repellent and good shockproof effect. The series of skinning foam board are made by anti-weathering formulations; the color can be permanent and non-ageing. PVC crust foamed plate has light weight, easy for storage and transportation, convenient construction. This product can use the general wood processing tool to process. It can be drilled, sawed, planed, nailed, glued like wood. It's suitable for hot forming, heat bending and folding processing. It can be welded according to general welding procedure, and it can also adhesive with other PVC materials. The surface of PVC crust foamed plate is smooth, able to print. (need to wipe clean the surface before printing). Product application transportation: the internal decoration plate for ships, aircraft, train, bus, car roof, car body core layer. Architectural decoration industry: outer wall board, building decoration board, residential, office buildings, public places, commercial decorative frame, compartment for clean room board, ceiling board. Advertising: screen printing, computer engraving, advertising board, signal board. Industrial application: chemical anti-corrosion engineering, heat molding, cold storage plate, special cold preservation engineering, environmental protection board. Other uses: template, sports equipment, breeding material, seashore damp-proof facilities, waterproof materials, art materials, all kinds of light partition board.
Qingdao Canplast Machinery welcome friends around the world to inquire with PVC crust foamed board production line.
Service for PVC crust foamed board production line:
Pre-Pre-sale: customers can consult to our company for various technique and business, our company will provide related information to facilitate reference, and provides the corresponding marketing information, sales price, sales method, to help customers know the entire market.
In-sIn Insale: after the two sides signed the contract, our company will provide corresponding design of water, electricity, air, ground installation diagram, according to customer requirements and the actual situation. After the production completed, we should inform customer in advance in order to inspect machine testing, and provide various convenience like airport pick-up, catering, hotel booking etc.
PVC crust foamed board production line After-sales: after equipment completed in our company and debugging qualified, equipment arrived customer's factory, our technician should arrive customer's factory in time at customer's requirements to do installation, commissioning, personnel training, technology transfer, until the user can operate independently, and produce qualified products.
Formulation and technical support: all production equipment of our company are free of charge to provide the production formula and debug the equipment according to the formula. Any problem in the production process can call us for consultation.
Maintenance and warranty for equipment: all equipment of our company are provided with corresponding accessories, the warranty period of our equipment is one year, operation manual and maintenance manual are offered.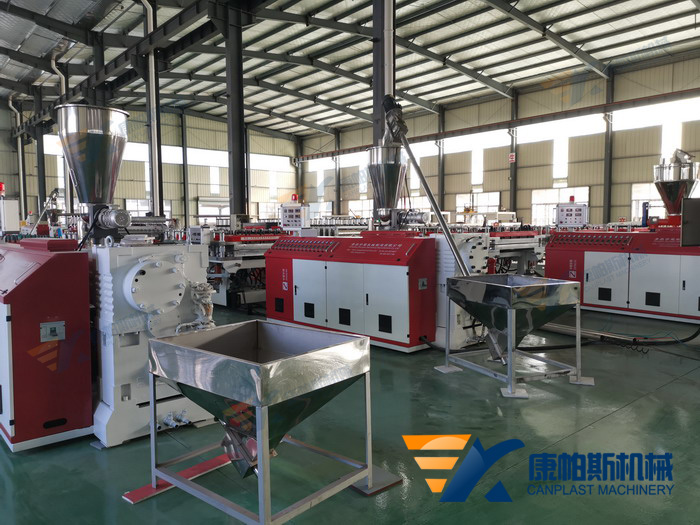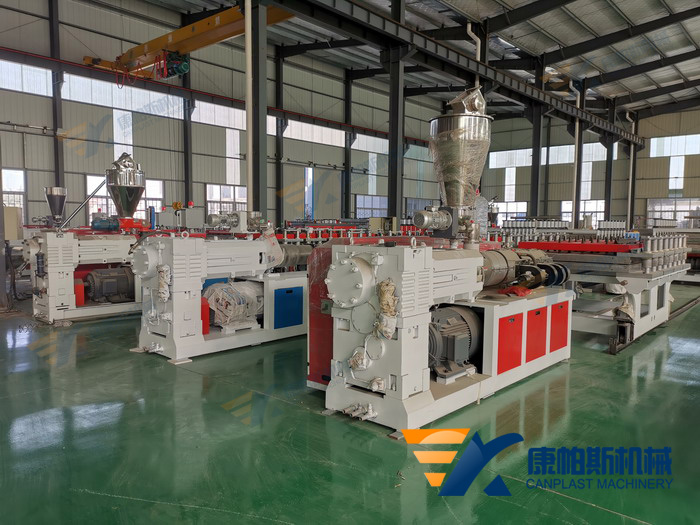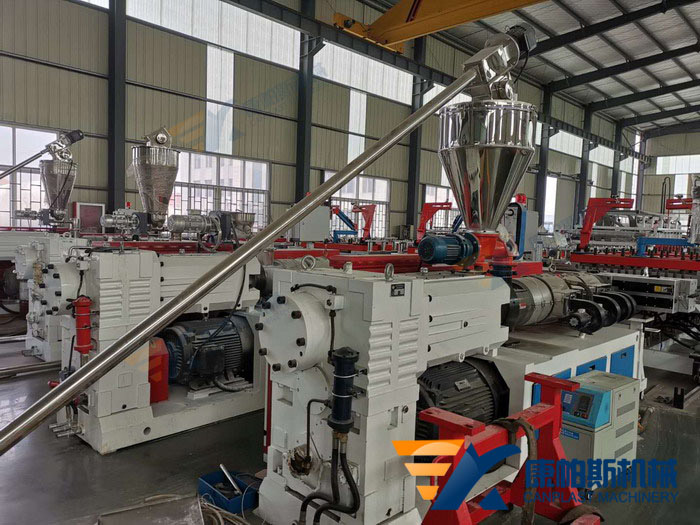 Main technical parameter
| | | | |
| --- | --- | --- | --- |
| Model | SJSZ80/156 | SJSZ92/188 | SJSZ80/156-SJSZ65/132 |
| Material | PVC | PVC | PVC |
| Product width (mm) | 1220 | 1220-1700 | 1220-1700 |
| Product thickness (mm) | 5-25 | 5-25 | 5-25 |
| Screw L/D ratio (L/D) | 22 | 28 | 22 |
| Main power (kw) | 75 | 132 | 75kw 37kw |
| Max. Production capacity (kg/h) | 350 | 600 | 500 |
Our main products are:PP-PC hollow grid board production line, PE, PP, PS, PVC Board Production Line, WPC furniture-cabinet board production line,PP-PE-PVC Wood Plastic Composite Profile Extrusion Line, PP-R Cold-Hot Water Supply Extrusion Line, PVC Pipe Extrusion Line, PE-PP Gas/Water Supply Pipe Extrusion Line.
Accessory products: